What are the Best Solar Pond Pumps of 2018?
SOLARIVER Solar Pond Pump
Brushless Magnetic motor, Fully Submersible , 20,000 + Hour Life, Removable filter, Easy Connector, Aquatic Life Friendly

Operating Voltage 12-24V, 16 foot long cable, includes 3 nozzle spray patterns

Max. Flow Rate – 259GPH @ 12V :  356GPH @ 18V /: 412GPH @ 24V Max Head – 3.25 ft. @ 12V / 6.9 ft. @ 18V / 10.5 ft. @ 24V

20 watt solar panel – Max voltage 17.28V – Max current 1.157A – Open circuit Voltage 20.88V – Short circuit current 1.37A

1 Year Warranty – 100% Money Back Guarantee if the pump kit doesn't meet your water pumping needs!
This pump is the perfect all-rounder. It's truly built to last, with the brushless magnetic motor offering over 20,000 hours worth of low-noise operation. The advancements in technology in these magnetic driven pumps means that this new generation of pump can handle all-day operation, as opposed to the traditional Bilge pumps which were not designed for this.
The pump has a 20W polycrystalline solar panel, this is rather powerful and should be suitable for small/medium sized ponds, whether or not you are using the pump for water circulation or more for an aesthetic purpose. The panel has a durable aluminum outer frame and includes a stake for placement.
The panel connects to the pump via a 16 foot lead, yes that's right, a 16 foot wire! This means that you are given the freedom to place this in any position within your garden that gets the most sunlight, allowing for continuous operation. No wiring needed, all you need to do is plug in, set this panel in the sun and say goodbye to all of those expensive electricity bills! Sounds good!
In conclusion, you really cannot go wrong with this pump, whatever the purpose. We've heard about people using this in their 12000 gallon swimming pools, whilst they holiday for three weeks, returning to a perfectly conditioned pool, all thanks to this Solariver pump operating perfectly.
SIEGES Solar-Powered Pond Pump
Solar powered pond pump kit for small ponds only

Design for reliability and ultra-quiet operation to provide years of service

Small profile size makes the pump easy to hide or disguise, Suction cup mounting feet for either vertical or horizontal mounting

Solar energy, need no extra power, energy-saving and environmentally friendly; Starts automatically in 3 seconds when bright sunlight shines on the solar panel directly without any shadow (solar panel: 9V/1.8W; Maximum lift: 2.3 Ft/70cm)

This brushless water submersible pump is great for aquarium, fountains, spout and hydroponic systems. Easy to clean

Adjustable water flow rate, and comes with 4 different spray heads for replacement

Max Flow Rate: 60 GPH (220L/H)
Power & Voltage : 1.8 Watts & 9 V
Length of Power Cord: 5ft(1.5m)
Dimension: 1.87in x 1.68in x 1.24in (47mm x 43mm x 30mm)
The SIEGES mini submersible pond pump is the perfect option for a small pond only. It can create good strong flow in small pond to provide oxygenation for the plants. It's compact design is great for space-saving. The maximal flow rate can be up to 60 gallons per hour. Lift height can be up to 2.3ft.
Again, this pump should only be used for very small ponds, or small fountains. It cannot handle the same amount of water displacement as other recommended pumps, such as the Solariver pump.
SOONHUA Solar Powered Pump
Solar powered pond & fountain pump

Solar Panel power : 9V 360mA
Brushess Water Pump Power: 12V 210mA
Maximum Flow: 200L/H
Solar Panel Size: 19.1 x 17 x 2.4cm
This solar powered pond & fountain pump comes with an external solar panel and stand. The pump is able to keep small/medium ponds well oxygenated which is a must if you have plants in the pond. Quick and easy setup and the company even offers a huge 24 month warranty!
LEDGLE Solar Pond Pump
This eco-friendly solar powered pond pump is extremely similar in specification to the SOLARIVER pond pump. It too is easy to install, operate and maintain, and it can be placed in any position, with no screws or plugs being required.
The pump itself has a water  flow of 380L/H, and projects water to a height of 47 inches (120cm). It comes with multiple fountain nozzles, so you can swap and change whenever you feel, creating a new aesthetic water feature spectacle for your garden pond.
What is a solar pond pump?
A solar pond pump is an environmentally-friendly alternative to a battery/mains powered pond pump, used to pump water around the pond, keeping it aerated and suitable for plants, etc. They are usually more expensive that conventional mains powered pumps due to the additional solar panel cost. However, are known to be considerably cheaper to run in the long term.
Pond pumps can also be used to aesthetically enhance a pond, if you're looking for solar fountain pumps, this page has more suitable recommendations, especially for readers with smaller ponds/bird baths.
Solar Pond Pumps collect solar energy from the sun. This is absorbed through the pumps attached photo voltaic panels, also known as solar panels. The pump's solar panel(s) are usually connected to the pump system via wires, or are in-built to the pump system.
For the pond pump to operate consistently, the solar panel must be placed in direct view of the sun and angled correctly, to prevent reflection. This is extremely important, as the power of the pump itself will vary, being solely dependent on the amount of solar energy transferred from the panel, to the pump, per second.
Therefore, it's important to consider the availability and strength of sunlight that's available in your garden. Notice, I did not say your pond. This is because the solar panel can be attached via a long line of wire, offering up to 15 foot of an extension, enough to place in an area of the garden which gets the most sunlight.
Features of Solar Pond Pumps
Solar Pond Pumps are a popular alternative to the classic, mains powered pond pump for several reasons. These include
They are easy to set up
They can be easily moved
They do not require any running costs
Are environmentally friendly, using renewable energy source
They are typically not as noisy
There are however a few disadvantages with using solar-powered pond pumps, as opposed to mains powered, these include
They provide less power output & subsequently lower water flow
More ideal for small/medium sized ponds, not suitable for large ponds
Cloudy & overcast days can block Solar Panels from absorbing energy needed to effectively power the pump
They are usually more expensive to purchase
How can I find the best solar pond pump for my pond?
There are several important factors and criteria that you should use to find the most suited solar pond pump for your garden. On a more general level, this includes weighing up the pumps functionality and ability to be able to pump the required amount of water, alongside the visual aesthetic of the pump and water effects it produces. We realise that readers will have their own unique priority and biases towards their situation and assuming you have a set budget in mind, the factor (functionality, aesthetics) which they could be able to potentially compromise on,
Going into more detail, there are some more specific factors which should be considered before making the final decision to which pump is right for your pond, these include..
Water Flow & Power Output
Generally speaking, the higher the power output, the more powerful and effective the pump will be. This power rating is determined by the unit of Wattage (W). The level of power will have a direct impact on the amount of water that the pump can handle, at capacity level, and the distance to which it can be projected into the air.
The majority of Solar Pond Pumps have a variable flow rate. This is dependent on the strength of the sun combined with the directional position of the solar panel.
This combination of factors will impact on the pump's performance, especially on cloudy days.
Therefore it's very important to consider the position of the pump within your garden, and place it a particular spot which gets the most continual sunlight over the day, only this will impact on its power.
Regarding pump water flow, despite having a similar output wattage, not all pond pumps provide the same strength of water flow, due to different internal hardware causing efficiencies and inefficiencies. Therefore some are more powerful than others, despite the same apparent wattage. Therefore it's extremely important to look at photo and video footage of the pump in action, alongside customer reviews.
Regarding the solar-powered pond pumps that we are recommending readers to consider, we have featured this information, alongside links to follow to purchase the product.
If you happen to be looking for a pump with the single purpose, to function as a pond aerator and oxygenate the pond, we advise looking at our recommendations of Solar Pond Aerators. We've featured an extremely popular one below.
Beckett Solar Pond Pump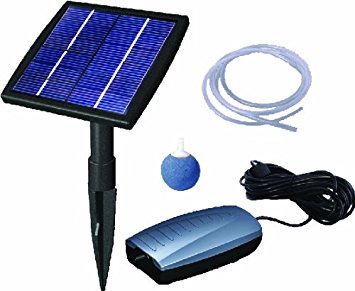 1.5 watt solar panel

Power cord -9.8'

Nominal Voltage-7.68 V, Nominal current-195mA
This solar pond pump is simply a solar aerator, therefore if your single purpose is to boost oxygen levels within your pond, this is a great solution. The relatively modest wattage of the solar panel (1.5w) indicates that it is only suitable for small/medium sized ponds. We've heard of people using it in 300 Gallon KOI ponds, and with it's 4-star overall rating, it seems to be very reliable.